Creating a Cheap and Easy Renaissance Outfit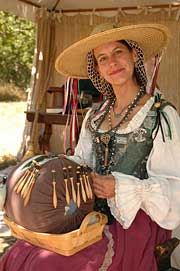 by Julie Hoffman
It's time for your local Renaissance Festival and you want something to wear to fit in. While you can always wear your everyday clothes, you'll have more fun playing a part. Unfortunately, the only costume you can find is your daughter's latest Halloween costume. However your newest Renaissance outfit could be as close as your closet or nearest thrift store.
Start simple when putting to together a peasant outfit.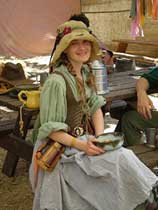 The basics for women:
* One to two ankle length solid color skirts
* Poets shirt
* Lace up vest for the skirts if you only find one, either let it hang long, or safety pin the sides up to knee outfit. It's even better if you find 2 skirts. Leave the bottom one hanging at ankle length and tuck the top skirt into the waistband. Safety pins can be handy here as well. If you only find one solid colored skirt and one patterned, wear the patterned as the bottom skirt. The lace-up vest or bodice is where you will want most of your design for the poets shirt, this can be any color. While most poets shirts are in white, color adds more dimension to your look.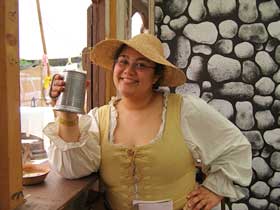 A lace-up vest or bodice can be the hardest thing you acquire. Many people wait until visiting the faire to purchase a bodice. The people who run the clothing shops can help you find the best fitting bodice to flatter your figure. However for tighter budgets a lace-up or button-up vest will work.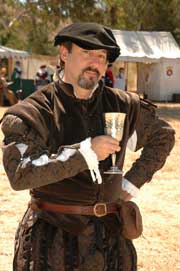 The basics for men:
* Long Pants
* Long Sleeved Shirt
* Vest, opened or closed.Pants are typically in the browns or blacks. They are worn long to either tuck into boots, or cover the tops of your shoes. Look for lounging pants in a sold color. A drawstring waist is the best.The shirt is very much like a tee-shirt that pulls over your head. Long sleeves are recommended, however if your faire is hot, short sleeves will work. This should also be a solid color. While the shirt and pants would be enough, a vest to go over the shirt would make the look complete. Look for the longest solid color vest available. The vest can either be closed or hang open.In both men's and women's clothing try to find 100% cotton. Most of your time will be spent outside wearing multiple layers. Cotton will keep you cooler than polyester.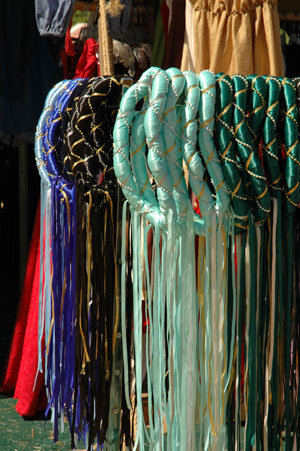 While the above will get you a nice outfit adding accessories will make it feel complete.
* Shoes
* Head Covering
* Belt
* Drinking Vessel
* Pouch
* Shoes are very important to your look.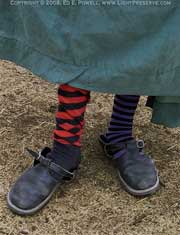 Tennis shoes, even black shoes, can take away from your overall appearance. For men boots are a good look, for woman sandals or slip-on shoes. Just make sure they are comfortable shoes as most faires are not on paved ground.For your head a straw hat creates a peasant look while keeping you cool and protected from the sun. A bandana or scarf can change your look to a pirate or mercenary.You can use a modern looking belt if you hide the buckle under the bodice or skirts. The belt would need to be strong enough to carry all you accessories. Keeping with a pirate look tie a brightly colored scarf around your waist instead.For drinking vessels a metal or wooden cup will be needed for the hot days to keep cool. You will want it to have a closed handle to hang off the belt.The pouch should be large enough to hold your supplies, cash, credit cards, sunscreen and ID. The pouch should have a belt loop on the back that will fit the belt you selected.For added comfort on the hot days bring a fan. Either a fan that is permanently open or closing will work.If you do not find a complete Renaissance outfit from your closest or thrift store the next place to look is on-line. Any part of the outfit you could want is available from a bodice, to shoes, to other accessories, including an upgrade in class.Now that you know where to start you can create a great outfit for faire that lets you feel part of the event.
About the Author: Julie has been attending faires for 17 years and has had a variety of outfits that started at the thrift store.